My Hive: Kitchen Remodel
If you were following me over the winter you know my husband and I completely gutted and remodeled our kitchen. (And by 'we' I mean us, my amazing in laws, our equally amazing realtors, and the contractors from Home Depot) I will admit, I've heard some nightmare stories about kitchen remodels, so I was pretty nervous going in to it. I've gotten a lot of questions about the whole process so I'll try to cover it all, but if I leave anything out, message me!
Our house was built in 1964, the original kitchen is actually in our basement (that makeover will be coming soon, it's going to make the BEST bar!) and if I had to guess from the design choices, the kitchen was remodeled once in the 90's. The was nothing really wrong with the existing kitchen (except one of the double ovens didn't work and two of the stove burners were broken) but I hated it. It was full of massive dark cabinets, a countertop made of a very easily stained and scratched material NO ONE could identify, a black sink, dated appliances and an awkward pantry area that was basically useless.
If you remember my Stay At Work Housewife days, you know how much I love to cook, and I could not bring myself to make anything in this kitchen. Besides just not being aesthetically pleasing, it had zero counter space, and the configuration made it really hard to get to the basement while carrying a laundry basket. So after only living there 6 months we decided to remodel it.
Although I'm about to shout out a lot of businesses this post is NOT sponsored!
I love designing so I was happy to take that part on myself. I knew I wanted simple cabinets, navy blue lower with white upper and brass hardware. We kept the configuration pretty much the same, except we removed a massive island and hutch and replaced them with a space conscious bar height table and stools. The awkward bi-fold pantry door was removed and replaced with a track door. I was also deadset on floating shelves, an apron front sink, and painting the ceiling to match the lower cabinets.
First we explored our financing options. I figured I could keep the budget under $20,00, and we definitely didn't have that sitting in the bank after just starting a business and buying a house. We knew we wanted to use Home Depot for cabinets (they were the only reasonable ones I could find that came in navy blue) and it turns out they have a pretty awesome financing program for projects, the only stipulation is you have to buy everything there. Ultimately we applied for their Project Loan with a $15,000 limit and saved up cash for the items I wanted to buy elsewhere.
What I enjoyed about working through Home Depot the most is even though they subcontract the work, you're going through a nationwide company, so you know you're not going to be ghosted by some shady contractor, and there's always someone to call with questions and concerns. The only thing I didn't like was how compartmentalized parts of the remodel were. The cabinets, countertops and appliances were all through the kitchen department, and flooring and backsplash were separate. I had wrongfully assumed that these aspects would be coordinated within the two departments, but when it came time to remodel I had to schedule the flooring install, then the cabinets, after the cabinets the flooring people came back to install the baseboard, then the countertops, then the backsplash all myself. Luckily through my years of experience running a salon I'm good at scheduling things, but the average person might find trying to coordinate all of that themselves pretty frustrating.
We decided to demo the kitchen ourselves, and even after hiring a plumber to unhook all water and gas lines, and renting a dumpster, we still saved $1,300. Our in laws and amazing realtors actually helped with this part (who can blame them for wanting to, breaking shit is sooooo fun!) and we tore everything out, including 2 layers of flooring, in two days! We decided to make the doorway into the kitchen 9 inches wider, which was way easier than I thought it was going to be (thanks to YouTube). My original design had us tearing down the wall between the kitchen and dining room, but the mid century modern cut out in that wall is one of the things I fell in love with the first time we walked through the house, so when it came time for that part, I couldn't do it. After that, besides painting, replacing some light switch covers and two light fixtures, we left everything up to the pros.
From demo to first meal prepared, the remodel took a total of 3 months to complete. We lived on turkey sandwiches and takeout and the rest of our house somehow became as trashed as the kitchen. At one point my two year old niece came over and when she walked in she said "Whoa!". It was chaos even for a toddler. But it was totally worth it and I would 100% do it all again. My new kitchen makes me so happy, it truly is my dream kitchen, and it feels like a steal at $20,000!
My biggest piece of advice if you're planning on a remodel is this: Stay firm on what you want with the contractors. Some of them will try to talk you into doing something differently because it's easier for them to execute, but you are the boss, you're paying, and you should get it done exactly the way you want it. I actually kicked the first tile guy out of my house because he kept trying to talk me into getting it laid differently, and called me "Sweetie" one too many times....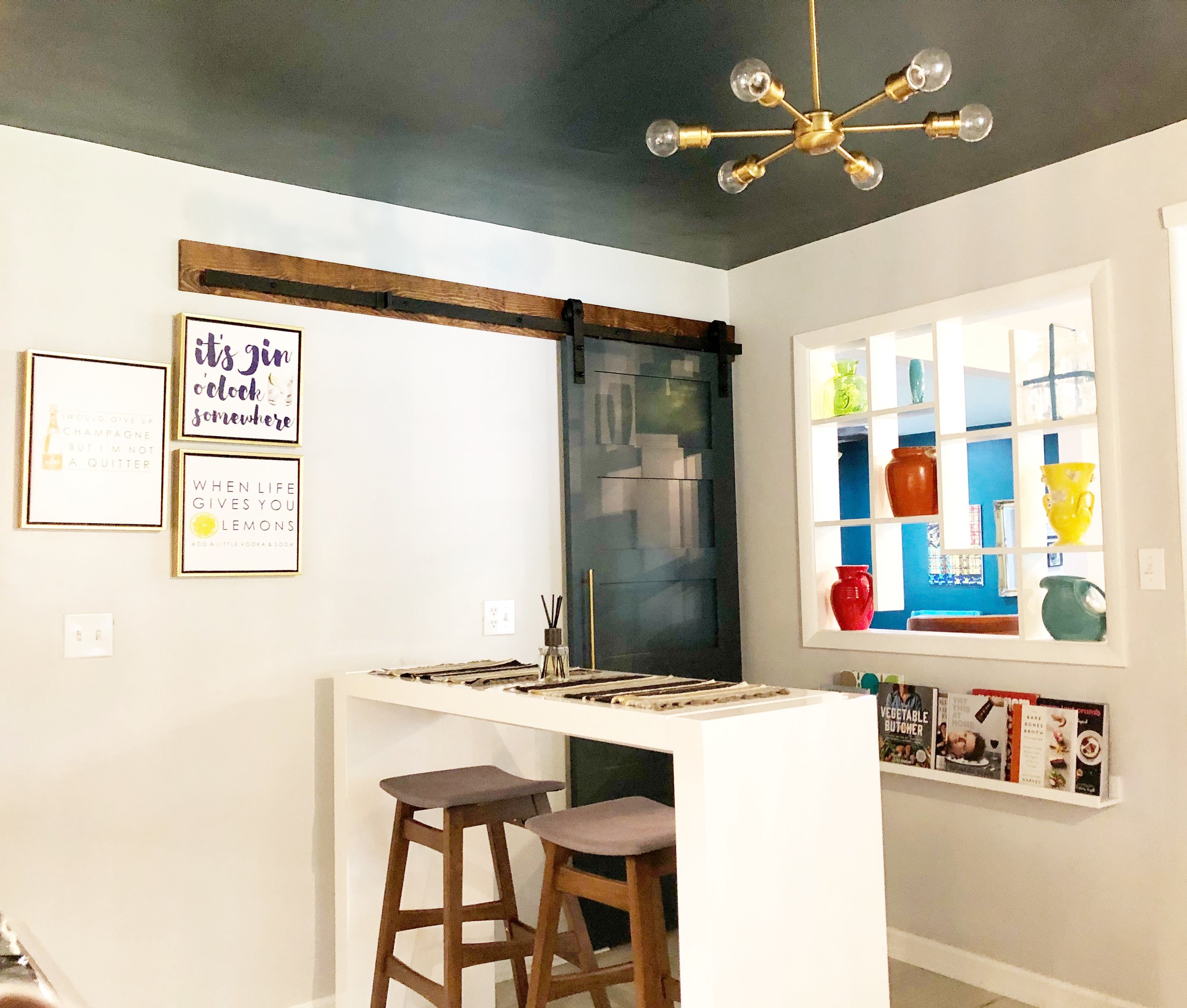 Vendor breakdown:
Home Depot- Thomasville Cabinets, Quartz Countertops, Ceramic Floor Tile, Porcelain Subway Tile
Whirlpool- All of the appliances
Wayfair- Light Fixtures, Kitchen Island, Bar Stools
Menards- Sliding Door Track, Solid Wood Door
Edgework Creative- Floating Shelves
IKEA- Apron Sink
Carr Supply- Faucet
Amazon- Cabinet Hardware
Behr- Paint